I received this book via Netgalley. This does not affect my opinion of the book or the content of this review.
This book may be unsuitable for people under 17 years of age due to its use of sexual content, drug and alcohol use, and/or violence.
Claimed
by
Sarah Fine
Series:
Servants of Fate
,
#2
Published by
47North
on 2015-03-24
Length:
341 pages
Reviewing
eARC
from Netgalley
Rating:
Galena Margolis, a brilliant scientist with a tragic past, is determined to fulfill her destiny and develop the vaccine that could save millions. Yet when Galena's test subjects meet with foul play, it's clear that someone is still determined to stop her, and that Galena herself is a target. As the Ferry empire forges a plan to keep her safe, Declan Ferry, the politics-hating black sheep of the family, steps forward to protect her—but the emotional cost may be more than either of them is willing to pay.

As unknown enemies close in, it becomes terrifyingly clear that they threaten to destroy not only Galena's lifesaving work but also the very fabric of fate. As Galena and Declan race to uncover the traitor, they also forge a special bond that could save both Galena and those she's sworn to help. Torn apart by the past and hunted by those she trusted, can Galena find room amidst her fears for a passion that could make her stronger than ever? And even if she and Declan can find their way together, will it be enough to keep the future from coming apart at the seams?
Claimed by Sarah Fine is book two of her new Servants of Fate series and picks up a week after the events of book one Marked. Galena Margolis is on the verge of discovering a vaccine that will put an end to the diseases plaguing mankind. When her volunteers begin dying suspiciously, she realizes that someone is out to stop her. As the Ferry's look to protect her with the help of the Kere, Declan Ferry steps in, fulfilling his father's last request: "Protect her and you protect the future." But protecting her comes at a high price.
I think I should preface my review by saying that I LOVE Sarah Fine! I've gobbled her books up like they are candy in the last year and a half and I was so excited when I received her newest series for review. Like seriously made my week 😀
What I am loving about this new series is that each book can be read as a standalone novel, with each novel featuring two newish characters as the main characters with a unique plot that ties into the overall series plot. Claimed features Declan Ferry and Galena Margolis, both of whom I first met in Marked. 
Declan is Cacy's older brother and chief at the EMS station where she and Eli work. I Dec! He's just amazing. He finds himself disenchanted by the work the Ferry's are doing and he is seriously considering turning in his scope which means that he is ready to give up his immortality. He's not happy and seems a bit lost at the beginning of the story. His only reason for continuing is the charge his father left him: "Protect her and you protect the future." In protecting her though, he finds himself falling for her and I have to say it's super sweet just how far he is willing to go and how much he is willing to give up for Galena.
Galena is Eli's older sister and I fell in love with her through Eli's eyes during Marked. She is a force to be reckoned with in my opinion. She suffered a horrific event that Eli touched on and it is expanded in Claimed. In spite of what's happened to her, she stays strong, she continues her work to develop this vaccine, and she does it all without asking for any help. She's focused and determined to fulfill her fate and I just love it! When Dec enters her life, she finds herself ready for more and to move past her nightmares. She's willing to explore possibilities that she originally thought closed to her. And that my friends makes for an awesome read!
The plot of this story is similar to the last book. Someone is after Galena, trying to stop her work. It's a fast moving story, filled with strained romance and suspense. If I'm being completely honest I think I liked this romance much more than Eli's and Cacy's story. Why? Very simple. Galena and Dec are older, slightly wiser and put each other before themselves. They focus on what the other may want instead of their own wants and besides all of that it's just a really sweet relationship that blossoms between them. One I rooted for throughout the book!
I was pleasantly surprised to find how much I enjoyed Claimed. I'm not one to usually like it when an author changes the characters in each book of a series but it works with this one! Not only does it add to the overall plot of the series, it's a nice change to see each of the Ferry siblings find love. My only complaint, and it's the same one as in Marked, are the sexual scenes. I felt they were overdone and personally I could have done without them. I don't need details if you get what I mean 😉
Other than than the book is fantastic! I love that I got a few answers to questions from the last book, namely who is working against Moros, but also new questions have come up. I'm excited to see just where the series is heading and I'm hoping that book three will feature Moros and Aislyn. I'm very curious about the eldest sister!
If you enjoy New Adult, science fiction, fantasy with a bit of mythology thrown in, and paranormal romance, I highly recommend you check the series out! It doesn't disappoint 😀
Review in a Gif: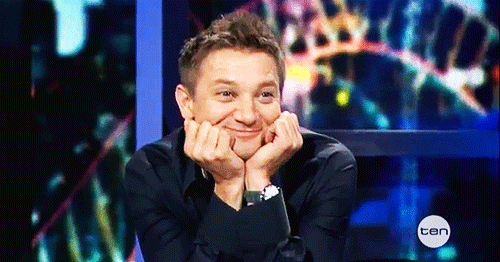 Final Conclusion:
Related Posts