Top Ten Tuesday is an original feature/weekly meme created by The Broke and the Bookish. This feature was created because they are particularly fond of lists at The Broke and the Bookish. They'd love to share their lists with other bookish folks and would LOVE to see your top ten lists!
This week the topic is a FREEBIE for our Top Ten Tuesday so that means I get to pick whatever I want to make a list about 😀
I read A LOT of young adult books. What can I say?! I like them. The characters are fun, mostly innocent and there's plenty of action. Also they're usually easy reads, fast-paced and keep my attention. However, I'm going to be thirty next year 😳 and sometimes there are things in these young adult books that make me feel OLD. Not like oh yeah I'm older than you old, but like I sound like my mother OLD!!! So here's a list of top ten things that make me feel old when reading young adult…
Top Ten Things That Make Me Question My Age In YA Books
Drama – Let's get real for a second….young adult books that deal with any character in high school means that there will be drama. I'm not talking about the kind of drama you get in books I'm talking about the high school drama. You know the he said, she said. If anything makes me question my age, it's this. I avoided drama like the plague in high school why would I want to read about it now?!
Love Triangles – Okay I get it, really I do. Especially in a series, you don't want the heroine to end up with that special person right at the beginning so you throw in this ancillary character you make us love and then crush him or make him a bad guy all so the main character gets her happily ever after….yeah I don't get it AT ALL!!!! It's annoying and makes me roll my eyes every time. It's painful to read and it's even worse when my ship doesn't sail. No triangles, got it?!
Mean Girls – This is just so cliche especially the books that deal with characters in high school. I personally don't remember any mean girls at my high school, and I was the loner type who would rather read as talk to you. Maybe my school wasn't big enough or maybe it's because I didn't grow up in NY or LA I don't know. These characters though, the catty girls, I can't stand.
Parties – This makes me feel really old to even admit, but here goes. I will be thirty next year and I have never gone to an all night rager party with drugs and drinking. Just never happened. Not that I wasn't invited, but I just didn't hang out with these people. And I don't know anyone that did. First, who got the beer and how? Second why drugs, don't you want to keep your braincells? and Last, just why?!
Technology – I can remember a time when I didn't have a cell phone (((gasp))) and guess what peeps my life went on! The tech these characters have and well in real life too I guess blows my mind. One book the character had a smart phone, iPod, laptop, and a brand new Jeep Wrangler. Really?! I've never owned anything that nice, especially as a teen. Are these parents made of money?!
Absence of Adults – Seriously?! Where are the parents in some of these books? Maybe I had parents that were a tad over-protective but my mom knew exactly where I was, who I was with, and what I was doing whether I told her or not. Some of these books make me question the ease in which a parent can be absent. Really?! Why would I let my daughter live by herself at 16?!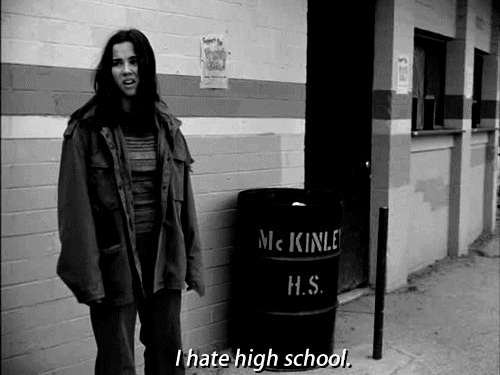 School – As I already said a majority of the books I read are young adult. Lucky for me I choose to read fantasy and science fiction so I don't have to deal with characters in school too much. However every now and then I venture into a contemporary and I cringe when the character starts talking about school. Don't get me wrong I loved school while I was in it. I don't ever want to go back though and I sure don't want to relive it!
BFFs – This is one of those cliches that pop up in every young adult contemporary I've ever read. Don't get me wrong BFFs are awesome and I had them too, but the relationship between characters in a book is usually only face value and the BFF of the main character is mentioned and might show up a couple of times. Yet the MC can't live without her BFF!
Language – This can go one of two ways. First it really bothers me when a 16 year old character talks like she is 30. I'm sorry I didn't use big, mature words at 16. I just didn't AND I was smart people! Second why is it necessary to use "strong language" in a book written for 13-18 year olds? Really is it necessary for your character to say "F—" or "d—" or "s—"? No it isn't.
Sexual Scenes – perhaps my biggest pet peeve in young adult fiction….sex!!! I read young adult because it should be clean. There might be innuendos or references to sex but there isn't any actual doing of the act, at least there shouldn't be. Call me a prude, I don't mind I own that title well, but why for the love of God would you write a sex scene between two teens? Do you WANT to encourage teen pregnancy, STDs, and sex as a minor?
What makes you feel old reading young adult? Or maybe as a young adult makes you feel too young? Honestly from this post you probably wonder why I even bother reading young adult. Well luckily a majority of young adult books do not include these things. And I like fantasy and science fiction. Usually those characters don't have a normal high school experience making the book much more enjoyable and the cliches disappear 😉
Related Posts