I received this book via Netgalley. This does not affect my opinion of the book or the content of this review.
Sight
by
Juliet Madison
Series:
The Delta Girls
,
on 2015-07-14
Length:
218 pages
Reviewing
eARC
from Netgalley
Rating:
I spent my birthday fast asleep. In a coma to be exact.

When Savannah wakes up after two months in the hospital, she sees a whole lot more than expected, things that could put those close to her at risk.

The five Delcarta sisters have never believed in the paranormal, not like their woo-woo mother. Instead they believe in the power of sisterhood, of romance, and rebuilding their lives after their father's mysterious disappearance nine years earlier. Starting anew in the small town of Iris Harbor, they see potential in all.

But Savannah's awakening after having surgery on a life-threatening aneurysm brings a unique ability to the Delcarta sisters–together, each can predict the future with one of the five senses. And Savannah has the gift of sight.

A serial arsonist has been terrorizing the tight-knit community, and the Delcarta sisters have their suspicions on who could be to blame, including a boy who starts as an adversary to Savannah and then very quickly becomes her whole world. Investigating these crimes, trying to stop them before the next flame is sparked will call upon Savannah to use her newfound abilities with the help of her sisters, and will put each of their lives in danger.

This stunning new paranormal series blends the sweetest of romances with breathless suspense, and introduces five young women who share a haunted past, an extraordinary gift, and an uncertain future.
Initial Reaction:
Sight by Juliet Madison is the first book in a new paranormal series about a group of sisters who sense the future. In theory, this sounds great! And I was all like:
But in the actual reading of the story I just wasn't impressed. There was a lot that could have been done that wasn't and a lot that was included that didn't have to be. Let me break this down into two categories: what I liked and didn't like.
What I Liked
I loved that the author uses siblings as the main character for this story. Often family is overlooked in young adult literature. You usually will get your heroine and everything else is just background noise to her. Not the case with this book. The author lays out five sisters and they all play a big role in the book. While this one is told from Savannah's POV, I have a feeling that each book will be told by a different sister, corresponding with their precognitive ability.
I love the sisters. You have the twins, Tamara and Talia, who are 18. Then there's the triplets, Savannah, Sasha, and Serena, who just turned 16. Each girl has a precognitive sense: sight, smell, taste, touch, hearing. AND they can only have a vision when they are together. This ability is completely new to them and they have to figure out a way to navigate it together. The sisters are close, rarely fight (which I found amazing considering they live in close quarters), and are fiercely protective of one another.
I also liked the main plot which revolved around not only the sisters learning to use this ability, but the mystery surrounding their new town. Someone is setting fire to businesses around town. So far no one has been hurt, but the police also have no leads. The girls are seeing the future and think they can help, if they only knew how.
What I Didn't Like
The teenage drama!!!! I get it. The girls are 16 and 18 years old, there's going to be some drama. There's even bound to be some immaturity. Maybe I'm just getting too old for these books, but Savannah, the MC and POV of the book, just annoys me! I tried to like her, I really did, but her obsession with the boy next door and her apparent lack of concern over the visions they receive just grated on my nerves. I mean really, if I had just awoke from a coma after three months, I would be thinking about more than boys ESPECIALLY if I was all of a sudden seeing the future!!!!!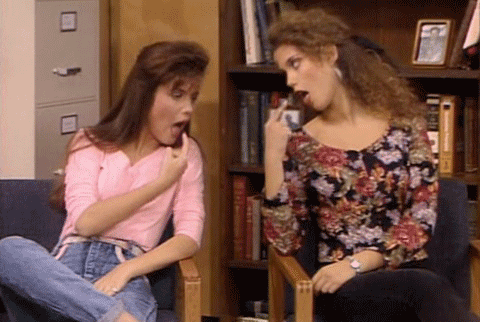 Riley Pearce, the boy next door, Savannah's crush, and who we should all like…..ugh!!!! Not only is he rude, a completely dick to Savannah, he is supposed to be the guy we like. His only redeeming quality that I found was that he was "hot." Sorry ladies, that is not enough to make me like him. Yes he has a tragic backstory, accounting for his behavior, but I don't buy the jerk act. I don't like it, period, end of story! Be a man, treat your lady with respect, and for God's sake just be nice!!!! It's not that hard.
Obviously if I didn't like Riley, I didn't like the romance in this book. It's a lot like first crush, instead of first high school boyfriend. While reading it, I had to remind myself that Savannah's in high school not middle school, because that is how the relationship/romance read. I just wasn't impressed.
Then the plot. Like I said I liked it, but there was a lot of build up, only to get everything nicely gift wrapped into one chapter. I felt like rather than the mystery giving you clues as you read, it was all packed into one chapter, leaving the rest of the book for the girls to explore their newfound abilities and Savannah to explore Riley. I didn't like this!
Overall Conclusion:
Overall the book was just OK. It didn't get me excited, it didn't keep my attention, and I was not blown away by the ending. What I was excited about was this was a relatively clean read, something that is lacking in today's young adult literature. There were no closed door scenes, little to no coarse language, and the characters were all together wholesome. While I believe some things could have been done better and others should have been left out entirely, this book does have the redeeming quality of being an easy, fast read.
While I don't feel that this book was for me, I do think that others will enjoy it. I would recommend this for anyone that enjoys contemporary young adult, mysteries, and a little romance. In fact, I think this is a perfect read for 13+ crowd (like I said it's a clean read, with not one but five strong leading ladies).
Final Conclusion:
This book fulfills #53 on the COYER Summer Scavenger Hunt.
Related Posts