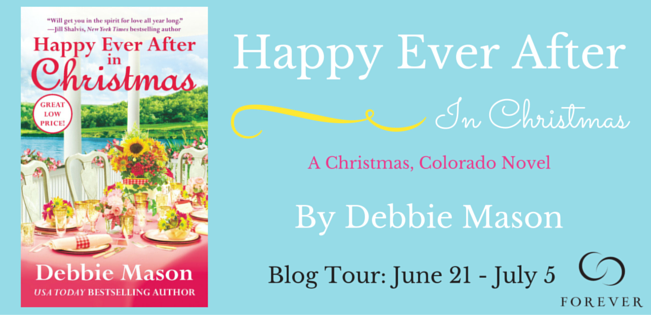 The final book in Christmas Colorado is now available and it is a sweet, heart-wrenching read! Who doesn't love a friends turned more story?!
I received this book via Netgalley. This does not affect my opinion of the book or the content of this review.
This book may be unsuitable for people under 17 years of age due to its use of sexual content, drug and alcohol use, and/or violence.
Happy Ever After in Christmas
by
Debbie Mason
Series:
Christmas Colorado #7
Published by
Forever
on 62016-06-28
Length:
368 pages
Reviewing
eARC
from Netgalley
Rating:
It's beginning to look a lot like love . . .

As her thirtieth birthday approaches, deputy Jill Flaherty decides it's time to live a little. When she walks into Sawyer Anderson's bar in her sexiest dress, she's not thinking that he's her brother's best friend or about the many women he dated during his years as a pro hockey player. All she's thinking is that it's finally time to confess to her longtime crush how she truly feels.

Sawyer is done being a player on and off the ice. Yet no one in the small town of Christmas seems to believe he's ready to settle down, not Jill, and certainly not Jack, who is determined to keep Sawyer from breaking his little sister's heart. But as Sawyer and Jill's relationship heats up, can he prove that he's her happy ever after?
Happy Ever After in Christmas by Debbie Mason is the final book in the Christmas, Colorado series. If you haven't started the series, no worries! Each book can be read as a standalone (I myself didn't start the series until two books ago) and still enjoyed. However I do recommend reading the entire series if you like sweet, contemporary romance set in a small town where everyone is in everyone else's business. In this final installment of the series, Jill Flaherty is tired hitting the cruise control on her life and ready to live it. First things first though is getting the man she's in love with to see her as anything but her brother's baby sister. Sawyer Anderson is the town's consummate bachelor and playboy, but when it comes to Jill he's blind to her feelings and his own.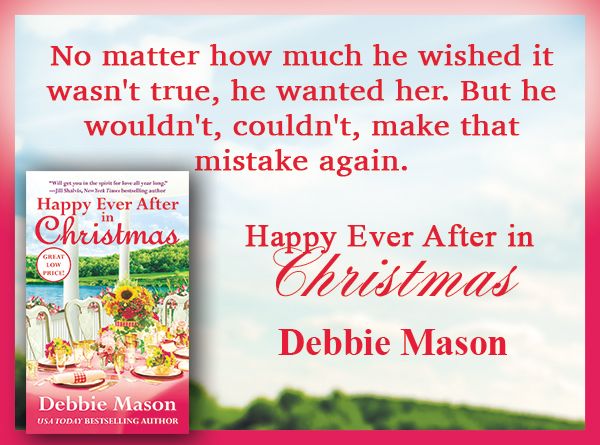 I really like Jill. I liked her in the previous stories as well and was excited to read hers. She's the town's deputy, takes no bull crap, and isn't a damsel in distress. BUT she's still a girl, something most of the men (including her own brother) forget. As her 30th birthday approaches, she realizes that her dreams of having a family may not come to fruition especially if she continues to pine after her brother's best friend Sawyer.
Sawyer is another character I liked before reading this story but I love him now! He is the product of a single mom and his overprotection of Jill is sweet bordering on annoying. I wanted to yell at him through the pages that he didn't get her at all. He may know her better than anyone but the man is blind to her feelings and his own, which totally made for an awesome read 😉 Sawyer is hesitant to be anything more than a friend to Jill because he doesn't want to risk his 22 year friendship with Jack, but he doesn't want anyone else with her either….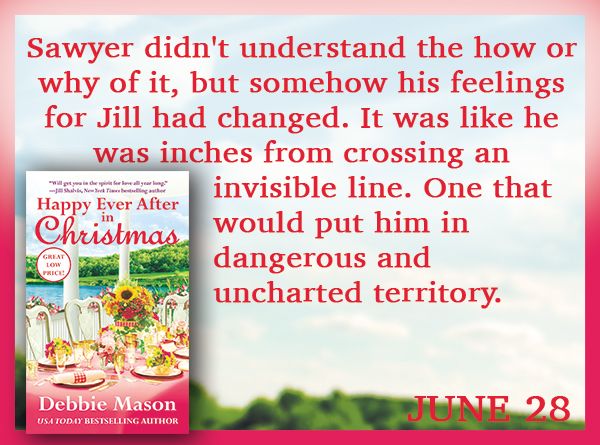 The plot centers around the evolving relationship between Jill and Sawyer. My heart bled for them as I read. Jill is hopelessly in love, turning down good prospects or just not enjoying them when she does decide to date. Sawyer at first doesn't recognize his own feelings and then denies them because of Jack. The whole town seems to be in on it as well, working their magic to get the two together. There's one particular event in the story that hit close to home for me and I needed several boxes of tissues and a cuddle from my husband to make it through.
Overall I loved this book! It's my favorite of the series (granted I've said that with every book I've read). The story is sweet, heart-wrenching and the town gets a happy ever after as the title suggests. While I'm sad there won't be more from this little town and Nell, I'm happy with the conclusion. All the previous characters make an appearance and their happy ever afters are solidified. If you're a fan of the series, you don't want to miss this conclusion. If you enjoy contemporary romance, I highly recommend it!
BUY THE BOOK HERE
FOLLOW FOREVER ONLINE
Giveaway
Related Posts