Merry Mondays is a weekly meme hosted here @ Mom With a Reading Problem during the month of December to celebrate Christmas and the holiday season. Each week a different topic centered around the holidays will be discussed.
This week's topic is "Top 5 Summer Reads." Summer is not quite halfway over yet, and there are lots of great books still to come. Here's the five I consider as Summer Must-Reads: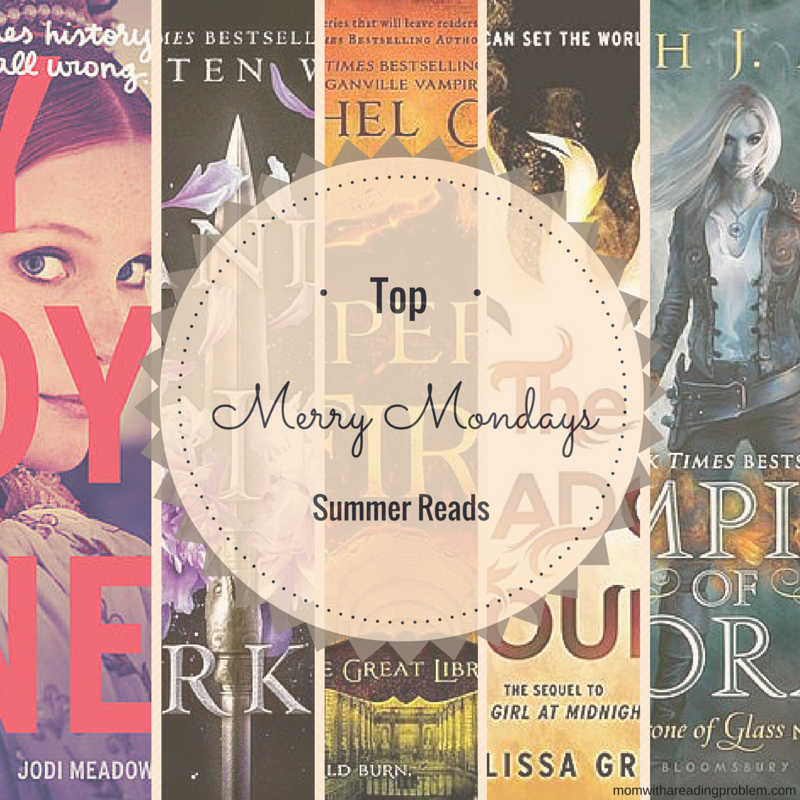 My Lady Jane by Jodi Meadows, Cynthia Hand, and Brodi Ashton: I highly recommend this book by three amazing authors! I devoured it and loved the quirky humor/alternate history.
And I Darken by Kiersten White: This is another historical, alternate history book about Vlad the Impaler, if he'd been a girl that is 😉 I personally haven't read this one yet but it is high on my TBR list and I have seen wonderful things about it already.
Paper and Fire by Rachel Caine: I'm in love with this series and cannot recommend the books enough. It's another alternate history/fantasy book. (Are you seeing a pattern?)
The Shadow Hour by Melissa Grey: I cannot wait to get my hands on this one. It comes out tomorrow (YAY!!!!). After reading The Girl at Midnight I fell in love and I'm so excited to continue the story.
Empire of Storms by Sarah J Maas: Technically this one doesn't come out until almost the end of Summer but how could I NOT include it on my list! I cannot say enough how much I love this series. It's high/epic fantasy at its best. Plus my ship has sailed 😀
Your Turn! What books top your Summer Reading List?
Merry Mondays is a weekly meme for the month of December (and sometimes July), featuring topics that center around Christmas and the holiday season. To join, link up below with the URL to your blog POST (not your blog) and your name or blog name. Then visit the others on the linky!
Related Posts