Happy Release Day Siobhan Davis!
I am so excited to share with you all the latest book in the Saven series Saven: Defiance! This installment to the series is chocked full to the brim with answers, surprises, and DRAMA. If you're a fan of the series, you don't want to miss it!
I received this book via Author. This does not affect my opinion of the book or the content of this review.
This book may be unsuitable for people under 17 years of age due to its use of sexual content, drug and alcohol use, and/or violence.
Saven: Defiance
by
Siobhan Davis
Series:
Saven #3
Published by
Self Publish
on 2016-08-22
Length:
339 pages
Reviewing
eARC
from Author
Rating:
Reading Challenges:
2016 ARC August
,
2016 New Release Challenge
,
COYER 2016 Summer Vacation
THE TRUTH ISN'T ALWAYS EASY

I've promised to protect those I love.
But someone is lying to me.
Will I discover the truth in time to save him?

With war looming in outer space and the Earthen government forced into hiding, the battle for ultimate world domination is only just beginning.

Having accepted her identity, Sadie sets out on a daring quest with her friends, which takes them deep into alien territory. Fraught with tension and danger, the journey is not an easy one, especially when previous adversaries become new allies and cherished friends become suspicious opponents.

As the heirs unite in a bid to restore peace to the galaxy, powerful enemies, determined to exact retribution,surround them on all sides. When hidden agendas and shocking revelations come to light, the fallout is massive.

Sadie's love life is a tangled, messy affair. While one relationship is embraced forever, another spirals out of control, threatening to destroy everything. Determined to do the right thing, Sadie will fight hard to protect those she loves.

But there are some battles she cannot win.
Advance Praise for Saven: Defiance
"I've got so many feels … I've been well and truly pushed into the fangirl camp." ~Goodreads Reviewer
"A fantastic young adult, fantasy/sci-fi, dystopian romance full of drama, angst, thrills and sweet swoonage with amazing new worlds, endearing characters, and a plot that's unputdownable." ~TJ Loves to Read
"Full of contradictions, revelations, action, and romance, I was glued to Defiance from the moment I first opened it." ~Schuyler Central High School Library
"Nothing like a good sci-fi romance with hot aliens and thrilling adventures through new galaxies to warm a bookworm's nerdy heart." ~Goodreads Reviewer
"Everything Siobhan publishes has a touch of breath-taking suspense, complex characters that engage your interest, and new worlds that pique the imagination. Saven Defiance is no different." ~Goodreads Reviewer
"Siobhan has knocked it out of the park! Saven Defiance has all of the things we love about her writing – action, romance, plot twists, and characters that we are drawn to … this book is amazing." ~Goodreads Reviewer
"Siobhan Davis is hands down one of the best YA authors writing today. She creates wonderful characters, amazing worlds, and provides them with solid, entertaining storylines." ~Goodreads Reviewer
"Saven Defiance has soul-deep romance, heart-pounding action, amazing characters, gut-wrenchingly intense moments, and once you start it you will be drawn into the story so completely … sleep be damned!" ~I Have a Book Obsession
"Saven Defiance is another incredible notch on the literary belt of Siobhan Davis and her crazy-wicked imagination." ~Tome Tender
Review
Seriously….one word for this book….DRAMA!!! Saven: Defiance by Siobhan Davis is a suspenseful, emotional rollercoaster that takes the series to an entirely new level.
I'm honestly having a hard time coming up with words to describe my emotions while reading this book. It's was full of highs and lows and everything in between. I think I felt the full gamut of emotions: love, rage, hate, jealousy, happiness, and joy. And that ending….
Sadie, love, I have not been your fan. In fact, your drama has annoyed me to no end. However, the maturity you show in this book as you handle the drama that is your life deserves a standing ovation. Seriously, how you dealt with the revelations, the scandal, the horrors that are done…..bravo!!! You are a girl others can look to. You are showing me and the other doubters that you can reign as queen by Logan's side. Yay!!!
To be #TeamLogan or #TeamAx? That is a good question! On one hand, Logan and Sadie share this amazing bond, the Eterno connection. It's cool, they can talk in each other's head, they are the other's soul mate. On the other hand, there's Axton who had Sadie first. He's her….I don't know. She loves him, but he isn't enough. My heart aches for Ax, he's SO good to Sadie and she shuts him down. But Logan's good to her too, even if he can be a little over-possessive at times, in my opinion. And then all the revelations about the two guys, their past, their connection to Sadie, their secrets…it's too much!
And then the climax of the book, the plot that revolves around taking Saven from Dante, saving Earth from the Saven and Amaretti….dear Lord, Siobhan Davis what are you trying to do to your readers?! The action, the suspense, the vivid, horrific details of actions taken by other characters that Sadie bears witness to…..too much!!!! It was amazing! The writing and the details, the foreshadowing, the character development were brilliant. I've had the honor of reading all of Siobhan Davis's books thus far, and if I may so, Saven: Defiance is her best!
Overall, I'm in love with this book! Sadie has finally come into her own as a strong leader and female heroine. I loved her changes and growth! The relationship with Logan and her strained friendship with Ax add a little drama….okay a LOT of drama but it fits so well with the plot that I couldn't tear my eyes from the pages. If you've liked the series so far, you don't want to miss this book. There are so many answers to so many questions that have been building through the series. It's coming to an end and I'm excited and sad to see what will happen to Sadie and her friends. If you're a fan of sci-fi, I highly recommend you check out the series, starting with book one! Fair warning my friends, the ending is not pretty. Be prepared for tears and lots of em!!! Now, don't mind me. I'll be the one wallowing while we wait for the next book!
Excerpt
The sun shines high from an elevated position in the sky, beating a burning path straight for us. My feet sink into the thick, dense sand of the desert, to the point where my legs throb with the effort involved in walking. Sweat coats my skin like a new outer layer, and my clothes are practically welded to my body at this stage.
The frosty reception—from Haydn—is in direct contrast to the hot, humid climate. He continues to ignore my questions as he guides me toward the ship that has just shimmered into existence in front of us.
It's as if we share a cloak of invisibility—this ship and I.
"Where's Logan?" I ask for the umpteenth time, channeling more patience than I ordinarily possess.
Haydn's response is to tighten his grasp on my arm and clamp his lips shut. I inwardly sigh as I glance around me. Neve is escorting Izzy on my left, and Rylan is guiding a cuffed Axton in front of us. Every so often, Ax peeks over his shoulder at me, a stern frown creasing his forehead.
I'm as confused as he is. I don't understand why I'm being treated like a common criminal, because the three Saven—whom I thought were my friends—are refusing to talk. "Please, Haydn. Where is he? Is he okay?" My breath huffs out in exasperated spurts at the unrelenting chilly silence.
"Walk ahead of me," he instructs as we approach the open mouth of the craft. It's the first time he has spoken since the ominous "Make one false move and I'll shoot" comment he threw at me when the three Saven first appeared here. Wherever here is, because I've no clue how I managed to teleport us safely from Torc or where we landed.
Ax and Izzy are ascending the walkway into the belly of the ship, and I trail behind them. A welcome, familiar face is waiting to greet me at the top of the steps. Fern leans against the railing, her usual sunny features obscured behind a mantle of worry. Spotting me, she brightens for a split second until she takes in my transparent prisoner status.
She skips toward us with purpose. "What the hell?" Piercing Haydn with a murderous glare, she deposits her hands on her slim hips.
"Don't. Interfere." He growls out a warning as he pushes past her, hauling me along for the ride.
I shrug my shoulders as I eyeball my friend. "Don't ask me for an explanation. No one is even speaking to me."
"This is completely ridiculous, and totally unnecessary," Fern yells as she stalks behind us like a miniature tornado.
"Babe," Rylan says, stalling on the steps above us. "Let's get to the cabin and we'll clear everything up."
Haydn snorts and shakes his head. I deliberately impale him with my penetrating gaze, willing him to look at me so he can absorb the full glare of my frustration. But he's as stubborn as ever, and he pretends not to feel my eyes burning a hole through the side of his skull. As I continue to stare at him—noting the ashen pallor of his skin and how his once shorn hair has grown out, now curling and twisting around his ears and over his neck—I wonder if I've ever really known him at all. Or if he has ever truly known me.
Because if he did, he would know not to fear me. That there's no need to treat me like this.
Teasers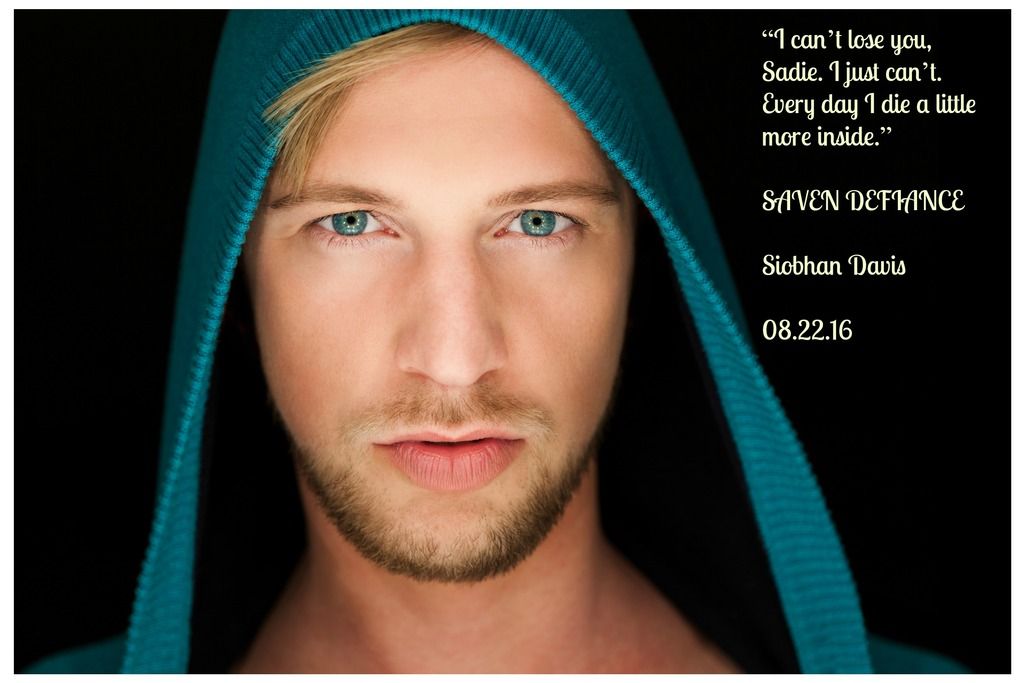 Start the Saven series today! Exclusively Available on Amazon
#FREE with #KindleUnlimited
Amazon.com: http://amzn.to/2btrJ8Y
Amazon.co.uk: http://amzn.to/1UiZh69
Amazon Canada: http://amzn.to/1Y59vwD
Amazon Australia: http://bit.ly/24lkLo6
Amazon India: http://amzn.to/22ARI0D
Author Giveaway
Siobhan Davis is giveaway a $5 gift card as a part of Saven: Defiance's release!
Related Posts