I received this book via the author, Rebecca Ethington. This does not affect my opinion of the book or the content of this review.
Through Glass The Rose
by
Rebecca Ethington
Series:
Through Glass #3
Published by
Imdalind Press
on 2017-01-24
Length:
182 pages
Reviewing
eARC
Rating:
Reading Challenges:
2017 Dystopia Reading Challenge
,
COYER Blackout
Everything has changed. The rules are only faded lies and the new reality is a haunting unknown full of children who attack you and monsters that can stand in the light.
The darkness was once a danger, but now it has turned into a safety net.
A place to hide.
A place where you can fade into shadows and hope that the tar don't find you.

Everything that Lex has been warned about seems to be unraveling around her, like a thread from a wheel and try as she might to control it, she is only caught in it's web.
As she stands in the shifting space of her new reality, she must chose: embrace it and become what the world has made her.
Or fight it, and hopefully save everything she holds dear.

Perhaps she can even find Cohen – if only she knew how close he was.
Initial Reaction:
This is it!!! This book contains the answers I've been waiting on 😀 Through Glass: The Rose by Rebecca Ethington was originally published as three separate novellas (Episodes 7-9 for those that have previously read the series) and I have to admit these are my favorites of the series so far! So many of my questions are answered in this book, granted it raises just as many questions as it answers. Warning this is an intense read from start to finish!!!
Lex and Travis are finally on the move after their brief stay at the creepy kids' house. But they don't leave unscathed. In fact, they leave a bit broken, both physically and spiritually. The question now becomes can they make it to Briar Rose before Lex turns and if she turns will Travis kill her. I was heartbroken for Travis. As the reader we've seen from Lex's perspective how protective and fearful Travis is of her. In this book we find out why. All of his suspicions about the Tar are confirmed with these kids. Not only was I shocked, I was horrified at the outcome and then suddenly I understood Travis's fear for Lex….she's turning and it won't be long now.
As Lex realizes Travis's fears, she begins to question herself. Will she become like the boy? Will she hurt Travis? Where is Cohen? Is it too late for him? All of these questions bog Lex down in this book. She is understandably scared, knowing that it shouldn't be normal for her to crave the dark, to fear the light, and then the whispers she is hearing. It's enough to give anyone nightmares! Yet I have to applaud her. Despite everything that is going against her, her focus on her love for Travis and her desperation to find Cohen keep her grounded. My theory is that this has kept her from changing sooner.
Travis is weary of his sister though. He obviously loves her and he's desperate to stop her change, but he's also scared. He's scared of what is happening to her, scared that he is now the older sibling, scared that she looks to him for answers he doesn't have or doesn't want to give. He's ashamed of what happened to Jason and he doesn't want the same to happen to Lex. So he keeps going.
I imagine that this is how Rebecca Ethington feels writing these episodes. Not only that but she leaves me begging for more! The answers given in this installment of the series is what I've been waiting for. Questions that I've been asking the whole series are finally starting to be revealed. With those answers inevitably come more questions. But you know what…I'm okay with that. I'm satisfied…no MORE than satisfied with the answers I received in this book. AND COHEN MAKES A REAPPEARANCE!!!!!!! After being absent for since the end of book 1, he finally makes a reappearance. Can I just say I squealed aloud when I read his name?!
I think it goes without saying that I loved this book! Not only do you get major answers to questions that have plagued me the entire series but new questions arise and you cheer for Lex and Travis. Oh and Brooke…I almost forgot!!! Brooke's in deep trouble….so yeah….just read it to find out. And COHEN ? (Can you tell I'm excited to finally see him again?!) If you're a fan of the series already then this is the book you've been waiting for. If you haven't read it yet, what are you waiting for?! Go! Read it now!!!! If you're new to the series, don't miss out. I highly recommend this serial series for anyone that likes dystopians, horror (don't read this book alone at night…fair warning) and young adult lit.
That cliffhanger though….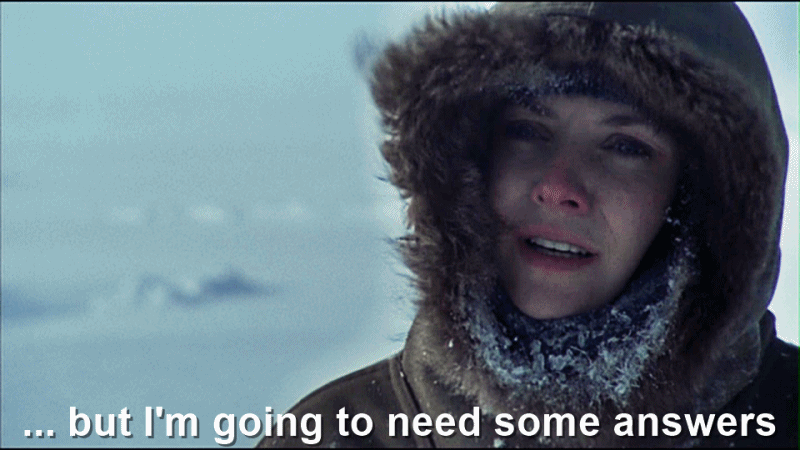 Related Posts