Top Ten Tuesday is an original feature/weekly meme created by The Broke and the Bookish. This feature was created because they are particularly fond of lists at The Broke and the Bookish. They'd love to share their lists with other bookish folks and would LOVE to see your top ten lists!
Happy Tuesday y'all! This week's topic is "Top Ten Series I've Been Meaning To Start But Haven't." My TBR list is a mile long and so many of the books on there are the first in a series. There are multiple series on my TBR list that I need/want to read. But between life, blogging, and my unending TBR I haven't had time. Here are the top ten series on my TBR that I need to start ASAP. As always, these are in no particular order, covers link to Goodreads/Amazon (aff)/Blog.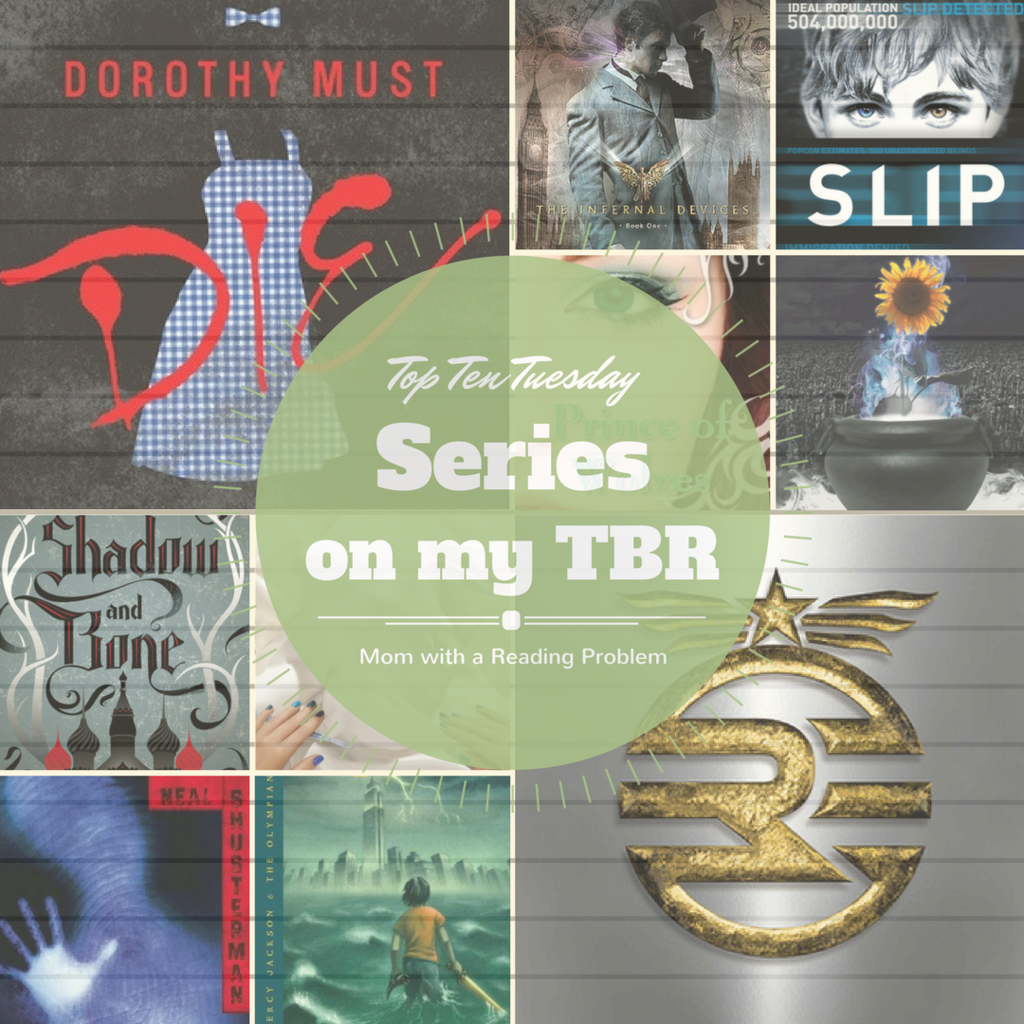 Percy Jackson and the Olympians by Rick Riordan: This series has been on my radar a long time. When I was working at a pediatric hospital, one of my patients and I bonded over our shared love or reading. He insisted I read this series and I went out and bought it. However I never got around to reading them. I really should read them, I love urban mythology!
Unwind Dystology by Neal Shusterman: I'm a sucker for a good dystopian and I found this series for a steal on Bookoutlet.com a few years ago. I spent less than $5 for the entire series in hardback. Now I just need to make time to read it.
The Uglies by Scott Westerfeld: Another dystopian 😀 This series first came to my attention when I did the Dystopia Reading Challenge last year. The first book was chosen for a monthly read along. I didn't get a chance to read it at the time but did buy the entire series cheap, again thanks to Bookoutlet.com
The Infernal Devices by Cassandra Clare: Honestly I want to read this series more than The Mortal Instruments. It's a prequel series and I've been told it has a bit of a steampunk element to it, plus it's set in Victorian England. I've put off reading it until I finish TMI, which will hopefully be soon.
Salem's Revenge and Slip by David Estes: I love this indie author! I've read his Dwellers Saga and fell in love with the writing style. Now I need to read his other series: one a fantasy with witches and the other a dystopia.
Legend by Marie Lu: I fell in love with Lu's writing reading The Young Elites, now I desperately need to read her dystopian series. It's at the top of my TBR….as soon as I get my hands on a copy.
The Grisha Trilogy by Leigh Bardugo: I've heard great things about this series which I believe is a dark fantasy. I like fantasy 😀
Dorothy Must Die by Danielle Paige: When I first started blogging three years ago, I wasn't a huge fan of retellings. That has changed thanks to Marissa Meyer and A.G. Howard. The Wizard of Oz is one of my all-time favorite series. I've even read them to my son and he enjoys them. SO I'm curious to see how this series plays out. I just got a copy and I'm itching to dive in.
The Grey Wolves by Quinn Loftis: I'm a huge indie reader and this series has been on my radar a long time. I even have the first few books on my Kindle. I just need to make time and read it.
Your turn! What series are on your TBR? Share below
Related Posts