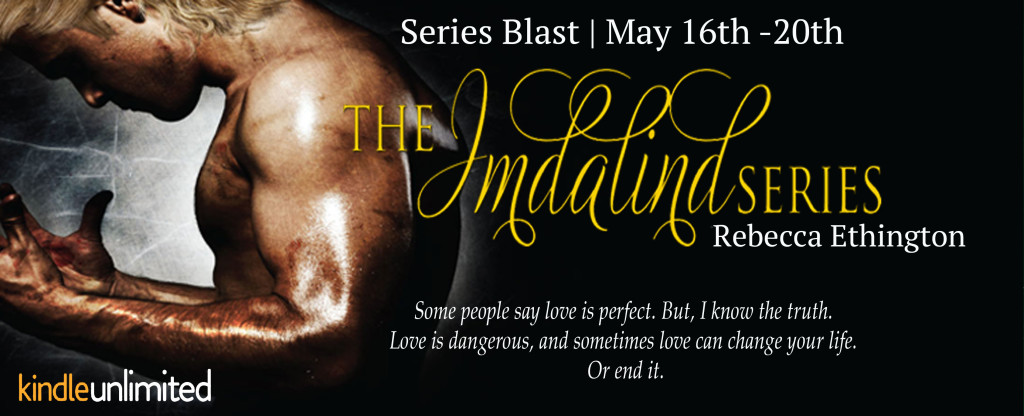 Title: The Imdalind Series
Author: Rebecca Ethington
Genre: YA Paranormal
---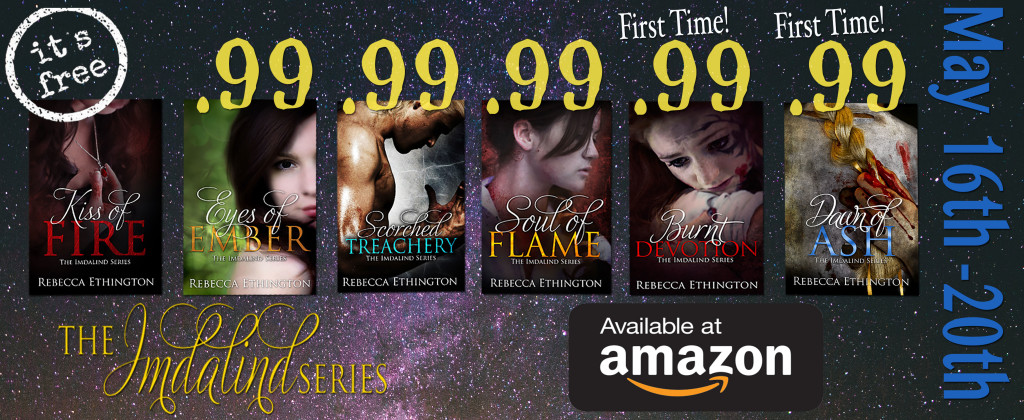 To celebrate the addition of the Imdalind Series to Kindle Unlimited, the entire series has been put on sale. With the final book to be released in just a few short months, you can now pick up books 1-6 for under $5.00 – But only until May 20th.
Kiss Of Fire | Eyes of Ember | Scorched Treachery | Soul of Flame | Burnt Devotion | Dawn of Ash
---
Start the Adventure today with Kiss of Fire
Blurb:
Joclyn Despain has been marred by a brand on her skin. She doesn't know why the mark appeared on her neck, but she doesn't want anyone to see it, including her best friend Ryland, who knows everything else about her. The scar is the reason she hides herself behind baggy clothes, and won't let the idea of kissing Ryland enter her mind, no matter how much she wants to. The scar is the reason she is being hunted.

If only she knew that she was.

If only she had known that the cursed stone her estranged father sent for her 16th birthday would trigger a change in her. Now, she is being stalked by a tall blonde man, and is miraculously throwing her high school bully ten feet in the air.Joclyn attempts to find some answers and the courage to follow her heart.

When Ryland finds her scar; only he knows what it means, and who will kill her because of it.
Excerpt
Without any warning, Cynthia began clawing and slapping at my face, the only exposed skin on my entire body. I yelped in a panic and tried to fight back as best I could, but it was no use. She was hell-bent on turning me into her scratching post. I pushed her away from me before her attack could get any worse, the palm of my hand slapping hard against her cheek.
"Leave me alone; at least I have friends who will stand up for me." It was a lame retort and I knew it, but I couldn't think beyond the burning in my face.
"Well, he sure isn't your boyfriend. After all, who could love an ugly, useless, insignificant,little nothing?" She hit me hard in the stomach, and this time, I doubled over, the wind knocked out of me. I heard the crowd around us yell as I fell to my knees, my eyes watering.
Cynthia walked up to me and lowered herself down to whisper in my ear with her bottom stuck out precariously, causing several of the boys to whistle. "Your own father didn't love you, why would anyone else?"
My blood boiled under my skin. The truth of her words dug into me and fueled the intense pain and anger I always kept hidden. I could feel the necklace grow warm against my skin, the warmth fueling my intensity. Without thinking, I slammed my hand into her stomach in a pointless attempt to hurt her, to get her away from me, to humiliate her somehow. Instead of her scuttling across the floor on her ridiculous heels like I had hoped, she flew ten feet straight into the air. Her back slammed against the ceiling tiles before she fell like a rock to the ground.
The crowd went quiet.
I stared in horror at Cynthia's motionless form. My heart thumped wildly as I desperately tried to make sense of what had just happened. I didn't know what had happened, but I did know I needed to get out of there.
I didn't even bother to meet any of the curious stares that were trained on me, and I didn't stop to check if Cynthia was all right. I just grabbed my bag, shoved the few things that had been scattered around the hall back into it and took off.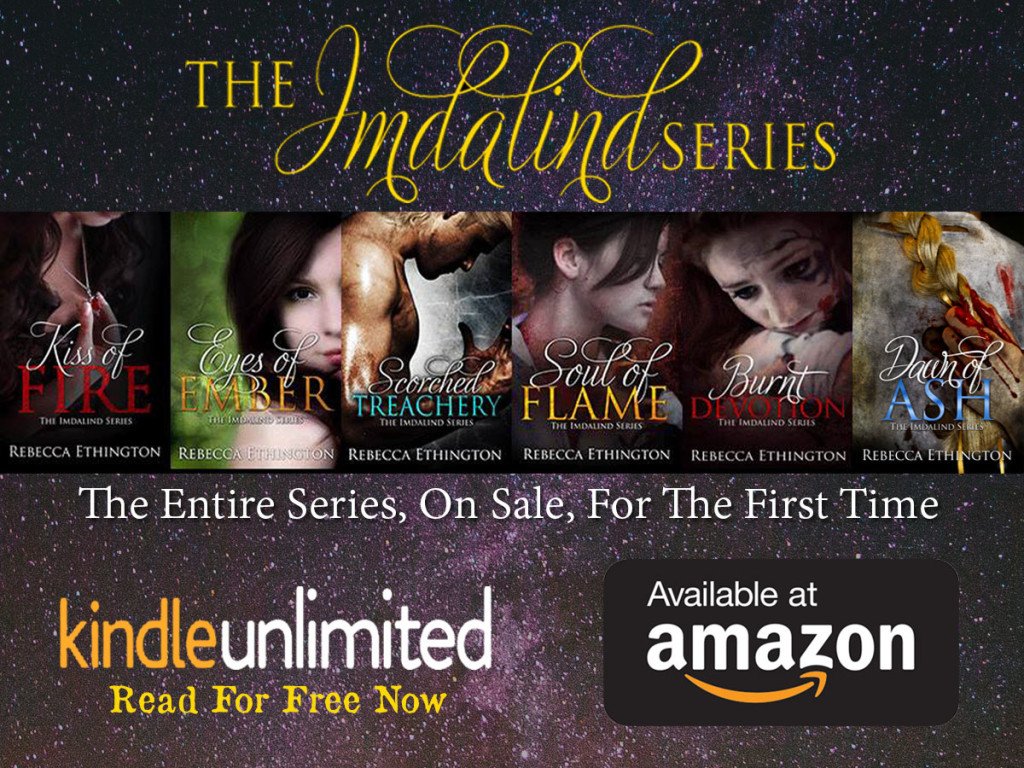 Buy Links:
#Free with #KindleUnlimited
Kiss of Fire: http://amzn.to/1OhCZkt
Eyes of Ember: http://amzn.to/1OhD2Na
Scorched Treachery: http://amzn.to/1X5uheK
Soul of Flame: http://amzn.to/1Nspe69
Burnt Devotion: http://amzn.to/1TaiRqD
Dawn of Ash:  http://amzn.to/1TaiSL6
---
Related Posts