Top Ten Tuesday is an original feature/weekly meme created by The Broke and the Bookish. This feature was created because they are particularly fond of lists at The Broke and the Bookish. They'd love to share their lists with other bookish folks and would LOVE to see your top ten lists!
Only 4 days left til Halloween! Have you got your costume yet? Little man decided he wants to be a ninja this year, so a ninja he shall be. It's really a cute little outfit. My new nephew is going to be a ninja turtle and I was privileged to make his costume using this pattern. I'll share pics next week (with my sister-in-law's permission) of him in his little outfit. It's adorable if I do say so myself 😉
For our top ten topic this week it's a freebie! This week's topic is "Halloween themed freebie" and I've wracked my brain all week trying to figure out what I wanted to share. I could share books which you all expect from me, but you expect it and where's the fun in that?! I could share crafts, y'all know I'm a crafter when I don't read, but there were too many to chose from! So I decided I'd share some of my favorite Halloween treats I've discovered on Pinterest*. I've made all of these at one point or another, so they are tried and true. Each pick links back to the original for more details 😀
*Side note: Y'all Pinterest is such a time suck for me. If I go missing, check Pinterest!
My Top Ten Halloween Treats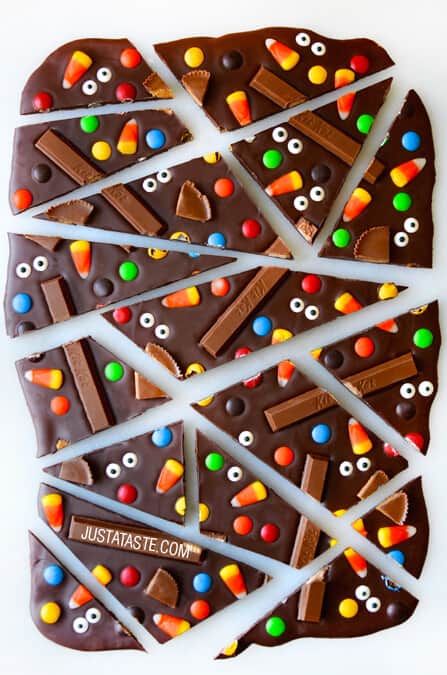 This holiday themed candy bark is just like any break apart candy you make, except you get to add in some fun Halloween candy to it. It's delicious! And really you can add any candy you like to it. Last year I had a lot of left over candy (lots of random things) and I cut them up and added them. This makes a great last minute treat for a party.
For the health nuts out there, I like this simple veggie tray. It consists of black olives for the face and baby carrots for the pumpkin. Personally I didn't cut a cucumber for the stem. I didn't want it to go to waste as decoration.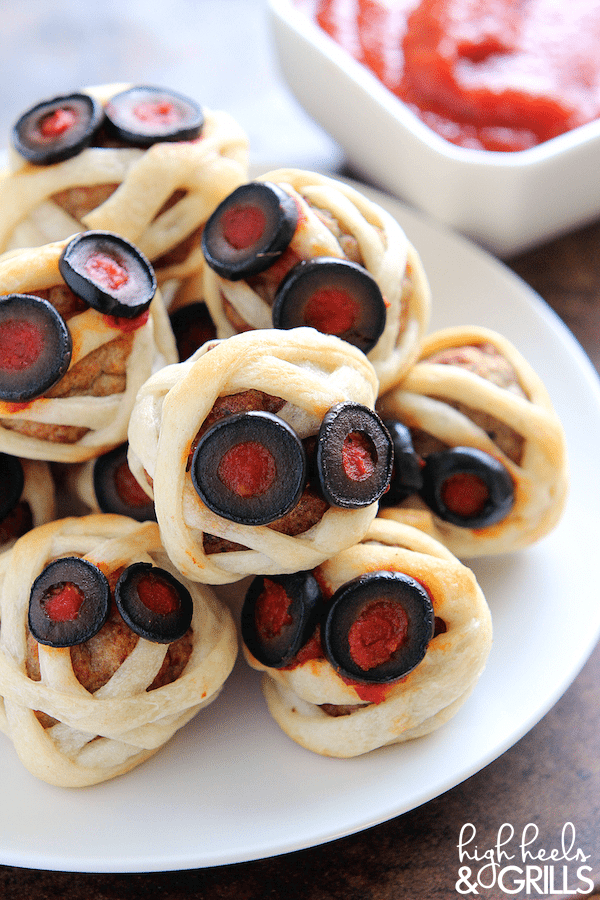 This is a really cute appetizer and makes up quickly if you're in a hurry. Using store-bought meatballs, I took string cheese and wrapped the meatballs (recipe calls for crescent down instead of cheese), cooked according to package directions then using a touch of marinara applied the sliced olives for eyes.
This is actually a Betty Crocker recipe and it is SO easy! Take any brownie recipe of your choice (sometimes I make homemade, but 9/10 times I buy boxed), using wax paper or food-safe card stock cut out any pattern (I used the Batman symbol), place on single serve brownie square and sprinkle with powdered sugar. Little man was over the moon for his Batman brownies 😀
I'll be honest…I haven't tried this one yet. BUT it looks delicious and I believe it will be something I need to give a try this year. It's super easy to make too! Take frozen pineapple chunks and pour orange soda over top. Top each glass with a dollop of whip cream and a piece of candy corn. Fun!!
These are so gruesome and so GOOD! I used my favorite cookie recipe, or you could always buy some already made, cut them in half, top with red icing and use marshmallows for teeth 😀 To get the vampire teeth, use almond slivers. You could also make this healthy by substituting apple slices for cookies, peanut butter (or soybean butter for those with allergies) for icing,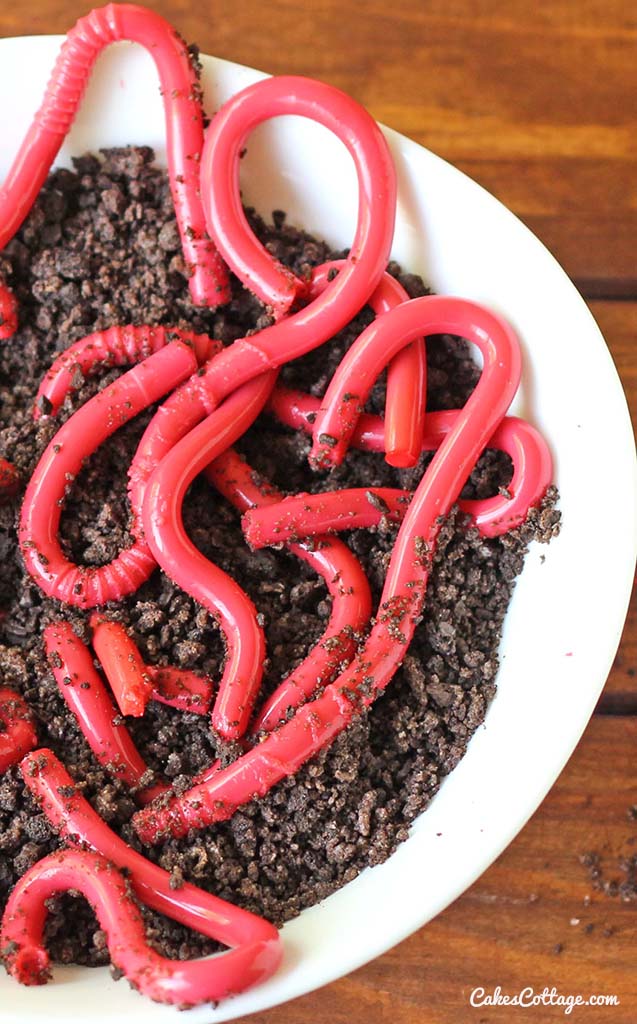 This is a very simple and quick recipe! For the dirt you just throw a bunch of oreos in a ziplock bag and crush to your heart's content or you could always throw them in the food processor (I don't have one so I do it the old fashioned way). The worms are the fun part, especially if you have kids. Take your favorite jello/gelatin mix or follow the instructions in the recipe link and pour into bendable-neck straws. I like to make these with my dump cake recipe (chocolate cake crumbled and layered with chocolate pudding, whip cream and chocolate syrup). It makes the worms look like they're crawling in mud!
I'm not a very creative person so I would never have come up with this on my own! Make any layer cake of your choice. Ice it with any color you choose, though I really like the eyes on white myself 😀 For the eyes, she used oreos, mini oreos, junior mints, and brown m&ms. I love this!!!
I made these for a bonfire last year and they were a hit. It was the first time I'd ever attempted to make rice krispie treats and I'll admit I added to many rice krispies so they were a little dry. BUT they are super easy to make! Just roll into a ball while still warm, take mini tootsie rolls as the stem and a tiny bit of icing for the leaf. You could even use mini chocolate chips or a little icing and create a face if you are feeling extra crafty.
This is a very quick, easy crowd-pleaser. The hardest part of the entire recipe is NOT burning the caramel corn. It calls for plain bugles, pretzels, peanut butter M&M's, caramel popcorn, and candy pumpkin. I bought a mixed bag of pumpkins and candy corn and threw them into the mix. Like I said easy AND quick. Plus it won't break the piggy bank 😉
Your Turn!
What kind of Halloween treats do you like to make? Last week little man and I made pumpkin shaped cookies and decorated them. He was quite proud of his "scary" pumpkins.
Like What You See? Follow me on Pinterest 😀
Related Posts