I received this book via Netgalley. This does not affect my opinion of the book or the content of this review.
This book may be unsuitable for people under 17 years of age due to its use of sexual content, drug and alcohol use, and/or violence.
Primrose Lane
by
Debbie Mason
Series:
Harmony Harbor #3
Published by
Forever
on 2017-06-27
Length:
352 pages
Reviewing
eARC
from Netgalley
Rating:
Reading Challenges:
#NGEW2017
,
2017 New Release Challenge
Love is the best medicine

Olivia Davenport has finally gotten her life back together. She's left her painful past behind, started over in a new town, and become Harmony Harbor's most sought-after event planner. But her past catches up to her when Olivia learns that she's now guardian of her ex's young daughter. With her world spinning, Olivia must reconcile her old life with her new one. And she doesn't have time for her new next door neighbor, no matter how handsome he is.

Olivia may act like she's got everything under control, but Dr. Finn Gallagher knows a person in over her head when he sees one. He'd really like to be the shoulder she leans on, but Olivia makes it clear she doesn't want his help. Since he's returned to town, his waiting room has been full of single women feigning illness. Yet the one woman he's interested in is avoiding him. But with a little help from some matchmaking widows and a precocious little girl, Finn might just win Olivia over.

BONUS: Includes a complete novel from BookShots Flames!
The McCullagh Inn in Maine by Jen McLaughlin
Review
Primrose Lane by Debbie Mason is the third installment to the Harmony Harbor featuring the Gallagher brothers. This time it is Finn Gallagher, the brooding doctor recovering from his recent injuries in the Congo at the heart of Kitty and Colleen's matchmaking. I have to say that I enjoyed this book! I planned to read just a few chapters and wound up reading the entire book in one sitting. This seems to happen to me every time I pick up one of Debbie Mason's books. The characters are well written, likable and relatable. Plus the dialogue and sweet romance is an easy read.
Olivia Davenport (known also as the mysterious Dana) is the other half of the matchmaking pair for this story. I personally had been curious about Dana since the first story. No one really knew her, only that she seemed to be hiding from something. What she is hiding from though is truly heartbreaking. Olivia is one of Boston's elite socialites and mega-rich. But money can't buy everything, a lesson she learned the hard way two years prior when her son died of cancer. Unfortunately that isn't the only piece of heartbreak Olivia has faced, and now she chooses to self-medicate to numb her feelings and curb her anxiety. There's only one problem with that: the handsome doctor sees right through her.
At first, I wasn't sure how I felt about Finn. He came off as the other Gallagher men had: judgmental and ready to leave. Yet the injuries he sustained in the rebel attack has forced him to extend his stay in Harmony Harbor, something he is just a little (really a lot) bitter about. He's intrigued and a little worried about the mysterious woman his family has brought in. To him, Dana is just another addict looking for a quick fix, but her kind heart and doe eyes draw him. He finds himself wanting to help her and when he uncovers her secret, he knows there's more to the story. A true doctor at heart, wanting to fix another patient, Finn winds up in over his head.
Character driven with an easy flowing pace, Primrose Lane reads like a real-life romance. Two people who get off on the wrong foot, antagonize each other to no end, and eventually realize they can't live without the other. Is it predictable? Absolutely! BUT the story is so sweet and the characters pull you in to their story that I personally didn't care. I enjoyed every word and as I already stated lost sleep to finish it in one sitting. If you enjoy contemporary romance, I highly recommend you pick up a copy.
Side Note: This book (as all the others in Harmony Harbor) can be read as a standalone. However I recommend reading the series in order to avoid any spoilers with the other characters that crop up in this book.
Author's Playlist for Primrose Lane
https://play.spotify.com/user/foreverromance/playlist/3n4iZjP2UK9adMKSUuQw4Z
Rachel Platten—Stand by You
Thomas Rhett—Die a Happy Man 
Bruno Mars—Marry You
DNCE—Cake By The Ocean
Lukas Graham—7 Years 
Train—Marry Me
Chuck Wicks—Always
Savage Garden—Truly Madly Deeply
Ronan Keating—When You Say Nothing At All
Lonestar—Amazed
Teasers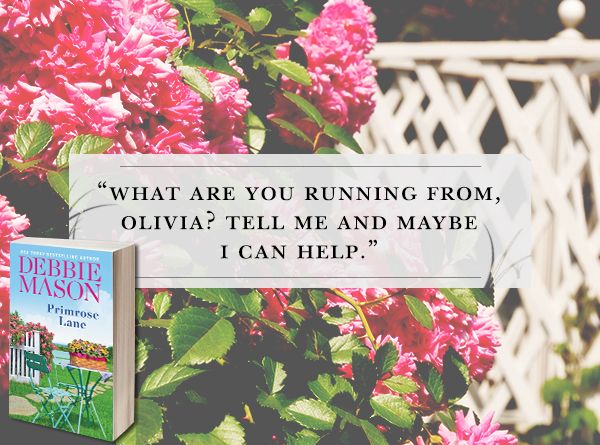 To read an excerpt of Primrose Lane, click here.
Related Posts