I received this book via Netgalley. This does not affect my opinion of the book or the content of this review.
The Darkest Star
by
Jennifer L Armentrout
Series:
Origin #1
Published by
Tor Teen
on 2018-10-30
Length:
368 pages
Reviewing
eARC
from Netgalley
Rating:
Reading Challenges:
2018 New Release Challenge
When seventeen-year-old Evie Dasher is caught up in a raid at a notorious club known as one of the few places where humans and the surviving Luxen can mingle freely, she meets Luc, an unnaturally beautiful guy she initially assumes is a Luxen...but he is in fact something much more powerful. Her growing attraction for Luc will lead her deeper and deeper into a world she'd only heard about, a world where everything she thought she knew will be turned on its head...

#1 New York Times, USA Today, and internationally bestselling author Jennifer L. Armentrout returns to the universe of the Lux in this brand new series, featuring beloved characters both new and old.
To say I was excited when I found out that Jennifer L Armentrout was writing a spin-off series to Lux is an understatement. I was bouncing off my seat giddy! The Darkest Star doesn't disappoint either. It delivered a unique tale that both honored the original series with some cameos and easter eggs AND continued the world-building. Set roughly five years after the end of Opposition, The Darkest Star follows Evie Dasher and how she finds out that everything in her life is a lie.
The Daughter of a Hero
Evie Dasher is your typical teen, well typical in the sense that she survived an alien invasion and may suffer from PTSD. You get the picture 😉 Evie is a fun character and one that I quickly figured out was about to have a large wrench thrown into her seemingly perfect life. Raised by a single, work-obsessed mom, Evie finds herself alone most of the time. She's a rule follower, not impulsive, and enjoys photography.
When the story opens, Evie has been convinced to go to a local Luxen bar with her friend. Using fake IDs which just the thought of gives Evie palpitations, they get in AND this is where the story gets interesting. A handsome character, who if you've read the Lux series you'll recognize instantly, enters the scene…..LUC!!!! Y'all I was SO excited to see him. I knew this series would feature him, but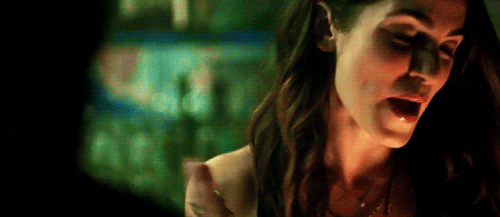 Luc is everything he was when we first met him in the Lux series and more. He's older, hotter, cagier, just more everything. He's still annoying, manipulative, but dare I say it he's shown he has feelings! The back and forth between him and Evie is the angst you've come to know and love from Armentrout. 
Secrets and Lies
All the secrets and lies that surround Evie begin to unravel as an unknown player has entered the game. Humans are being killed, and it is made to look like a Luxen did it. Yet Luc knows better, as does Evie. Evie begins to question everything: her dad's role in the Luxen invasion, her mom's knowledge of it, the Luxen at her school, even her friends and memories.
I loved the additional world-building here. We are seeing a post-Luxen invasion world. People still live in fear, the Luxen are forced to wear a power-suppressing wrist band (my mind immediately went to the Star of David Jews wore in Germany during WWII, don't ask me why), and they are segregated. New laws to "protect" humans and Luxen alike have been passed. These people are living in fear daily, always looking over their shoulders. It made for an interesting, fast-paced read.
My Final Thoughts
The Darkest Star was everything I wanted and more from the Luxen world. Armentrout delivers a new story with new characters and new troubles while staying true to the original world she built in Lux. Y'all it's fantastic!!! If you enjoy urban fantasy or paranormal romance, I highly recommend you get yourself a copy ASAP.
Related Posts