The Infinite
by
Lori M. Lee
Series:
Gates of Thread and Stone
,
#2
Published by
Skyscape
on 2015-03-10
Length:
378 pages
Reviewing
eBook
from
Library
Rating:
The walls of Ninurta keep its citizens safe.

Kai always believed the only danger to the city came from within. Now, with a rebel force threatening the fragile government, the walls have become more of a prison than ever.

To make matters worse, as Avan explores his new identity as an Infinite, Kai struggles to remind him what it means to be human. And she fears her brother, Reev, is involved with the rebels. With the two people she cares about most on opposite sides of a brewing war, Kai will do whatever it takes to bring peace. But she's lost her power to manipulate the threads of time, and she learns that a civil war might be the beginning of something far worse that will crumble not only Ninurta's walls but also the entire city.

In this thrilling sequel to Gates of Thread and Stone, Kai must decide how much of her humanity she's willing to lose to protect the only family she's ever known.
***Spoiler Alert*** If you have not read book one Gates of Thread and Stone, there are minor, unavoidable spoilers in this review of its sequel.
The Infinite by Lori M. Lee picks up a few months after the events of Gates of Thread and Stone. Kai and Reev live in the White Court, helping the new regime after Kai's impromptu yet much deserved killing of Ninu. Kai is restless, Avan is dead (WHY?!?!?!) and Reev is not acting himself. When a stranger claiming to be from another city needing their help arrives, Kai jumps on the chance to lead a team and leave the awkwardness that surrounds the White Court, but not all is at it appears and she finds herself in over her head.
Okay so Kai is by far one of my favorite characters. She is so strong-willed and independent, not listening to anyone and doing what she wants. Girl power right there 😉 At the beginning of this story she is a bit lost. Her best friend and boy she come to love is dead, well sort of. He's back but doesn't remember her at all and he is now an Infinite. Kai doesn't handle this change well. To make matters worse her brother is distant and just not himself, leaving Kai confused and struggling to cope with her identity as the daughter of Time (literally) and Avan's condition by herself. So yeah she's a bit lost in this book, coming to terms with everything that has happened. She handles it, in my opinion, much better than I would and comes out on the other end stronger for it.
Avan is not the boy I fell in love with in Gates of Thread and Stone. He's now an Infinite, Conquest to be exact taking Ninu's place. There are times we catch glimpses of the old Avan, his love for Kai coming through. But that's it. There's not much humanity left in him and I struggle to understand if he will ever come back. The only plus side to his change is that he is now immortal just as Kai will be when her father passes over his power to her. So if Avan ever overcomes his new abilities and REMEMBERS her they will at least be together forever *
*Note: This is all conjecture on my part 😀
Then there's G-10 or Mason as he now goes by. I Mason! He's just adorable in this "I can kill you" kinda way 😉 He's light-hearted, kind, can kick your tail if needed, and very obviously has a crush on our Kai. I wouldn't say there is a love triangle per se but there could be if Kai ever decides to move on from Avan, and I'm kinda rooting for him!
We get a lot more of Reev in this book and the dynamic between him and Kai has changed. Neither of them really know how to cope with it and my heart hurt for both of them as they struggled to find that familial love they shared. Reev is a great character though! He's strong, courageous and very obviously loves his sister. I adore him just as much as Kai does! He's her hero and I whole-heartedly agree with her.
The Infinite goes deeper into the mythology of the world Lee introduced us to in Gates of Thread and Stone and I found myself unable to get enough! As Avan is now an Infinite and Kai is learning more about her powers over Time, more of their world is brought to light and I love it!
On top of the extra mythology, there's the side story that takes Kai to Lanathrill, a town inside a mountain (super cool!). Lanathrill is inundated with these creatures that Kai suspects Ninu created to protect their borders. Now that he is gone no one can control them and they are wreaking havoc on the neighboring village. Kai with a team of sentinels that includes Mason travels to the town and really the surprises that come shocked me! I'll also admit a few tears were shed 😉
Overall Lee outdid herself with this sequel! It's unusual really for a sequel to live up to a 5-star first book, but this one did. If I could give it more than 5 I would. The Infinite deserves it! There's more action, more suspense, twists that I never saw coming (or maybe I just was in denial), and more questions to this world Lee's created. All I can say is….please hurry book three! I'm not sure I can wait very patiently for you 😉
If you enjoy young adult, fantasy, and dystopians than I highly recommend you check out Lori M. Lee's series Gates of Thread and Stone. It does not disappoint!
Review in a Gif: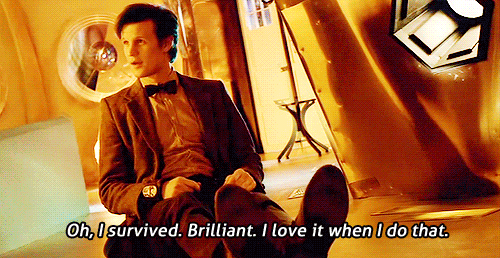 Final Conclusion:
Related Posts