I received this book via Edelweiss. This does not affect my opinion of the book or the content of this review.
Winterspell
by
Claire Legrand
Series:
Winterspell #1
Published by
Simon and Schuster
on 2014-09-30
Length:
464 pages
Reviewing
eARC
from Edelweiss
Rating:
The clock chimes midnight, a curse breaks, and a girl meets a prince…but what follows is not all sweetness and sugarplums.

New York City, 1899. Clara Stole, the mayor's ever-proper daughter, leads a double life. Since her mother's murder, she has secretly trained in self-defense with the mysterious Drosselmeyer.

Then, on Christmas Eve, disaster strikes.

Her home is destroyed, her father abducted—by beings distinctly not human. To find him, Clara journeys to the war-ravaged land of Cane. Her only companion is the dethroned prince Nicholas, bound by a wicked curse. If they're to survive, Clara has no choice but to trust him, but his haunted eyes burn with secrets—and a need she can't define. With the dangerous, seductive faery queen Anise hunting them, Clara soon realizes she won't leave Cane unscathed—if she leaves at all.

Inspired by The Nutcracker, Winterspell is a dark, timeless fairy tale about love and war, longing and loneliness, and a girl who must learn to live without fear.
Winterspell by Claire Legrand is a beautiful and haunting retelling of the E.T.A. Hoffman's The Nutcracker. At seventeen, Clara Stole is on a mission to find out what happened to her mother who was brutally murdered earlier in the year. Her father is a powerful man with little to back-up that power, mayor of New York City and a member of the city's most notorious gang Concordia, but he is no help to her mission. Concordia is planning something dark and when Clara finds out, she turns to her eccentric godfather who uses to tell her magical stories of a faraway land. After her father is abducted in what Clara can only describe as a nightmare and her sister's life is threatened by Concordia, she learns that not all her godfather's stories were fiction.
Memorable Characters
Clara Stole is a character I won't soon forget. She is passionate, fearful yet brave in the face of her fears, strong, courageous, loyal, and all too trusting. Well she's trusting until she finds out the truth behind her mother's murder then she is distrustful. I love her! I love watching the progression of her life in this book, going from a young woman wanting to know about her mother's murder to a very powerful woman who helps a prince to save his kingdom.
Nicholas is a status in Clara's godfather's shop. Clara has always been attracted to the statue and would talk to it and tell it her secrets. Then after a rather disturbing set of incidents, Nicholas is released from the statue and becomes a prince….
Yep you read that right, statue becomes a prince. Clara was a bit freaked. Nicholas happens to be the prince of the kingdom from godfather's stories and it makes life rather confusing and embarrassing for our Clara.
Godfather Drosselmeyer is exactly as I would have pictured him to be. He's got an element of magic to him, very spastic and eccentric. He only gives Clara the information she needs when she needs it, never before. Also he scares me slightly, and I don't know why but I can't get this out of my head every time I think of him:
All he's missing is the eyepatch, and of course the crazy clothes 😉 I even heard his voice while reading!
Then there is Anise…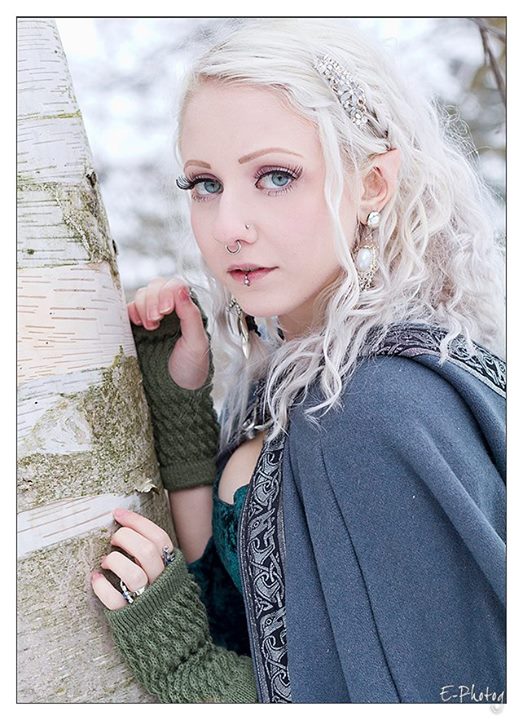 …the queen of the Elves who overthrew and killed the royal family, effectively taking over Cane and instituting a very anti-human regime. She is a bit crazy, lonely, and pissed off beyond belief. She is the silent kind of crazy, you know the one you have to watch out of the corner of your eye. She scares me a bit!
Haunting Plot
This story captured my attention and I was fully vested in the characters from page one. The author weaves a haunting tale of romance, war, and betrayal. As Clara delves into a world that she had once believed a myth, the author plunges both the characters and reader into the magical kingdom of Cane. Creatures and magic are revealed as Clara experiences it herself.
The plot revolves around two main lines: first Clara finding her father and saving her sister, second Nicholas reclaiming his kingdom. Clara isn't really sure what to think of her statue turned prince and Nicholas is infatuated I believe. Here is this young woman who was his only real companion (besides crazy Drosselmeyer) while he was cursed inside a statue. If it was me, I'd probably worship the ground she walked on or at least be fascinated being able to talk to her. And this is exactly how it is. For him, he feels he knows Clara inside and out. For Clara, he was just a statue, but now he's a stranger. Can she really trust him?
Then Anise can weave a web that you never get out of. She spins half-truths to keep what she wants. And she wants Clara. The question is why.
My Conclusion
If I'm being brutally honest I would say this is by far my favorite read all year, and I'm not sure it can be topped! The details of Clara's world, the magical kingdom of Cane, and the characters created by the author are beautifully written and standout vividly in my mind. Now I might be slightly biased as The Nutcracker was one of my favorite books/movie growing up. I loved the tale and still do!
Now there is a prequel novella, Summerfall, that gives the reader a little insight into Anise and how this war originated. I personally read it prior to Winterspell. However I believe you can read it before or after without it spoiling this story. Though I wouldn't skip it entirely! It's a wonderfully written story and gives a lot of background that enhances Winterspell and its characters.
If you enjoy fairy tales, a bit of dark romance, new adult/young adult fiction then I highly suggest you get this book. I promise you will not be disappointed. It is well worth the read 😀
Related Posts