Top Ten Tuesday is an original feature/weekly meme created by The Broke and the Bookish. This feature was created because they are particularly fond of lists at The Broke and the Bookish. They'd love to share their lists with other bookish folks and would LOVE to see your top ten lists!
It's that time of the week when I get to make a list 😀 (I'm really way too excited about that!) Today's Top Ten Tuesday topic is "Top New Series I Want To Start (New..let's say within the last year or two)." 😯
Okay so I'll admit that when I saw this topic I cringed a bit. Why? you ask. Well let me tell you, in the last year I've read a lot…and I mean that. But in the last five years, no the last ten years, I've not read much so I have been playing catch up. What does that mean? It means there's a ton, a ton of books and series that I haven't gotten around to reading that I'd really like too. Narrowing it down to only ten was really hard for me. But I did it 🙂 As always these are in no particular order, the titles link to the first book in each series on Goodreads.
Top Ten Series I Want Need To Start
The White Rabbit Chronicles by Gena Showalter – When I first saw this series two years ago, my initials thought was "Absolutely Not!" I love Alice and her many adventures in Wonderland. It was a favorite of mine growing up. However, I had not been introduced to the zombie genre yet, which occurred around this time last year. Now I love a good zombie book 😀 and to be honest, I'm intrigued and it is Halloween next week…anyone want to let me borrow 😉
Throne of Glass by Sarah J. Mass – I had not heard of this series until recently when the most recent book was released, and then I saw the beautiful spread at my local bookstore featuring the new book and its predecessors. I'm in love! Set in a different world, synopsis sounds medievalish, and the main character is an assassin trying to redeem her freedom….ummm can I get this book now?!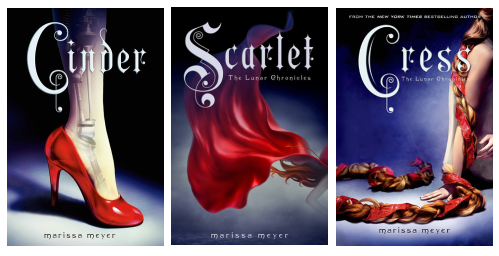 The Lunar Chronicles by Marissa Meyer – Fairy-tales reimagined is a new genre for me, but I like it a lot! And this particular series seems to combine not only the classics (Cinderella, Red Riding Hood, Rapunzel) but it is also set in a futuristic, dystopian, sci-fi world. So I really need to start it, like yesterday 😀
The Lux Series by Jennifer L. Armentrout – I'm going to admit something that will probably come as a shock to all of you…I have never read or heard of Jennifer L. Armentrout. In fact, on another blog, I saw the initials JLA used as a common term in a comment feed and I had to ask what it meant. Obviously I'm missing out on something here right?! Well, the fellow blogger pointed me in the direction of this series and I can't believe I missed it!!! A young adult, paranormal romance….and it's not vampires people…it's aliens!! I've already bought the first book, time to sit down and start reading!
The Grisha Series by Leigh Bardugo – Time for another confession…I'm a cover snob. That's right. I judge books by there covers, sometimes I even buy them or check them out at the library based on cover alone….I don't even read the synopsis 😯 This series is cover love all the way. I fell in love with them! They are haunting to me and remind me of gothic/Russian architecture. I honestly can't even tell you what the books are about. If you've read them, comment below to fill me in please. Like I said I just love the covers and will eventually read the series for that alone!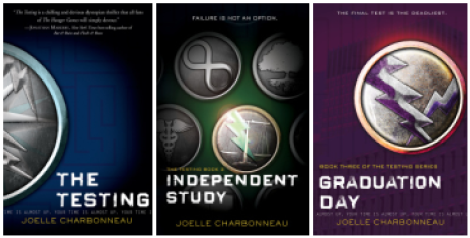 The Testing Trilogy by Joelle Charbonneau – Two weeks ago my husband took me to the book store. Yes, like a child, I asked permission to go because it's my toy store and I tend to get lost looking at all the pretty books when we go. I came across this series. The store had a very nice display set up with all young adult dystopias. I was in heaven 😀 Anyways I hadn't heard of this series so I read the synopsis and honestly it sounds really good! My hope is that it isn't a rip off of Divergent or Hunger Games….only reading will tell.
The Chronos Files by Rysa Walker – I have actually had this book for almost a year now and haven't started it yet 😕 But time travel is kinda cool…I mean look at the Doctor!! Anyways, now that my nerd is showing, I've got to make time for this series. Book two is coming soon, as in today, so I need to get reading!
Sunset Rising by S.M. McEachern – Another dystopia, imagine that 🙄 I know, I'm a bit obsessed with the apocalypse and how people survive after but it just makes for such darn good reading 😉 This is another series that I already own book one, so I really need to get to reading as book two just came out.
Forever Evermore by Scarlett Dawn – I came across Scarlett Dawn on the recommendation of a friend, and it happened to be a different series. Frankly I loved it! So now I want to give this one a go. Book three just came out and I already own book one, now I just need some extra time…
Something Strange and Deadly by Susan Dennard – This is a series I've seen floating around the blogosphere and I have to say I'm in love with the covers. This is another cover love series for me. I have no idea what the books are about, but the haunting images and beautiful dresses are enough for me to pick up the book and read it. Have you read this one? What is it about? 😉
Honorable Mentions
Since the idea of this topic was to stick with series that are new (less than two years old) and I've had a bit of a reading hiatus over the last 5-10 years, there were several series that didn't make the cut. Here are a few that I really want to start…
Enough about me and what I want 😉 What series have you wanted to start? Any of mine you think I should start first? Or is there one I'm missing? Comments welcome!
Related Posts