Top Ten Tuesday is an original feature/weekly meme created by The Broke and the Bookish. This feature was created because they are particularly fond of lists at The Broke and the Bookish. They'd love to share their lists with other bookish folks and would LOVE to see your top ten lists!
Today's Top Ten Tuesday is difficult for me to write. This week's topic is "Top Ten Books That Were Hard For Me To Read (because difficult of book, subject matter, because it was cringeworthy– however you want to interpret)." I love books! In fact I have a hard time not liking a book, even those that others find "cringeworthy" I find that I love for one reason or another. So finding ten books that were hard for me to read was like trying to find a needle in a haystack 😉 But I did it. I've separated these into a couple of categories and as always they are in no particular order.
Top Ten Books That Were Hard For Me To Read
Required Reading
I was required to read this book as a sophomore in high school and I hated it. Every word. In fact, I'm pretty sure I didn't finish it. I just skimmed the chapters so that I could answer the study guide questions and sound smart in class 😉
Knowing this is a dystopian novel, it kind of shocks me that I didn't like it. Maybe it was because I was being forced to read it. Now that I'm older, I think I'll give it another go, especially before I see the movie.
Another book I was forced to read in, except this time in college. Basically I just didn't understand this book and it was soooooo boring! Cliff Notes came to the rescue with this book.
Wuthering Heights by Emily Brontë
So in college, I decided I was bored with the regular literature classes 😆 so I signed up for Advanced British Literature. In all honesty though, it was the only literature class that fit my schedule and it was 400 level, I was a sophomore 😕 How I was accepted into a class full of upper levels and masters degree students I will never know, but I was.
This book was a part of the required reading along with Mary Shelley's Frankenstein. I actually read and finished this book, but it was a chore and one that I will never do again. I like old British Literature (Jane Austen and Charlotte Brontë for example) but Wuthering Heights was a challenge that I never expected. The characters were despicable people and I felt nothing for them and their situation.
The Divine Comedy by Dante Alighieri
Another college required read, but this one I enjoyed immensely. Call me weird but the imagery and the whole concept of Dante's Heaven, Hell and Purgatory fascinated me. Again I'm a little weird.
So why does it make my difficult reading list? Because it was very hard to read and understand what Dante was portraying. The imagery is vivid, but very symbolic. In fact I would do the required reading for class with a reference guide next to me to decipher what was going on. And even then I was usually wrong until I made it to class.
Recommended Reading, or Books I like to call "Torture from Friends"
A Game of Thrones by George R.R. Martin
I received this book from a friend who said I just "had to read it" and I'll admit the synopsis and the idea of the book intrigued me. So I excitedly started it. Half way through it I gave up.
Now that being said, I would like to give this series another try. My husband loves them, my mom likes them, even my dad likes them. So why didn't I? I chalk it up to being tired. My son was only 6 or 7 months old when I attempted this book and my husband was participating in a fellowship at the time, which meant he was only home two days a week.
Yep, I plan to re-read and try it again. Though spoilers from the TV series have already informed me that one of my favorite characters is dead 😕
Fifty Shades of Grey by E.L. James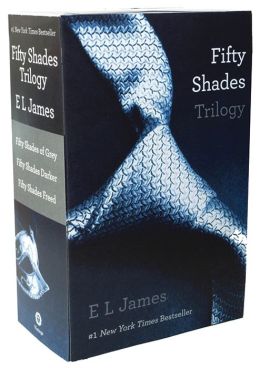 On my way to the beach for a family vacation, I decided to pick up this trilogy that my friends were all telling me I had to read. I don't read much erotica and my friends assured me that though it was steamy, I would enjoy the characters…..all I can say is that while sitting on the beach reading this book between my father and my husband with my son and mother playing in the sand in front of me I could have died from embarrassment :O Butt Plugs?!?!?! What is that? Don't do what I do and google please. I beg you don't do it!!!
I'll admit that they were right. I did enjoy the characters and their very weird relationship, but I could've done without the BDSM entirely. In fact I skipped through most of it.
My Sister's Keeper by Jodi Picoult
This book ruined me for this author. Before becoming a stay-at-home mom, I was a pediatric oncology nurse. Reading this book destroyed my emotions for days. Then the movie cheapened the book, I hated the way it was different.
Needless to say books like this one and TFIOS by John Green I do not read, and I will not read again. Don't ask me to and don't recommend them to me please 🙂
Other Books (books owned, books for review, books from the library)
The Atopia Chronicles by Matthew Mather
I love science fiction and dystopian worlds. Reading the synopsis I thought this book fit those descriptions perfectly. Excited, I checked it out through the Kindle Owner's Lending Library (does that even exist anymore with Kindle Unlimited?) However I was severely disappointed.
The book turned out to be a collection of short stories (again I like those) all told from different perspectives, all intersected. This in itself didn't bother me, but after reading the same event three times in a row from three different perspectives, I found it tedious and a tad boring. Not to mention the extreme attention to detail and science. Again I like science fiction, but I guess not techno-science fiction, where there is a focus on the technology and how it was built. That can also be a bit tedious and well boring.
I love fantasy and I love historical fiction…..however that doesn't mean the two should be brought together. I received this book for review and was initially excited. While the book was hilarious (if you haven't read anything by Pete Clark you should. He will have you laughing with tears rolling down your face.) and definitely put a unique spin on the American Revolution, it was hard for me to read and I'll admit I didn't finish it. I think I made it to about 75% and stopped.
My mind just couldn't wrap itself around werewolves, vampires, and zombies being a part of the war of Independence. However saying that I plan to try and read it again this month, with Halloween approaching instead of July 4th 😉
I was beyond thrilled when I received this book for review. Dean Koontz is a favorite author of mine and like I said I was bouncing off the walls excited. Then I started reading it. It is not your typical Dean Koontz. In fact, it is a bit on the paranormal side, and maybe if I'd kept reading it would've turned into a thriller or even a mystery, but alas I couldn't make myself read anymore once I hit 50%. I was done. It bored me to tears!
What books have you found difficult to read? Any cringe-worthy? Any that you finished and liked but still struggled with? Should I give any of these books another chance? I want your opinion and I promise to take it to heart 😉
Related Posts